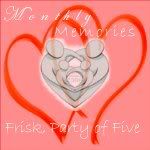 This may be the most fabulous February I can remember in my entire life. It's been a blurr, but so nice to look back on all of the wonderful things that transpired.
I'm linking up with
Frisk, Party of Five
for February memories.
A short month by numbers, but a FULL month for me. 15 fabulous, wonderful, over the top incredible days in Hawaii. My daughter celebrated her 30th birthday, and we celebrated Valentine's day. Then, as the month was creeping to a close, our much anticipated unknown gender of a grandchild appeared seven days early arriving on February 27th.
A sweet angel in the form of a baby girl has come to bless our family with all that she brings.
Then, I was honored to have my sunset photo chosen as favorite of the week! February was fabulous, and I hope yours was too.